Click the links for a teaser excerpt of each piece…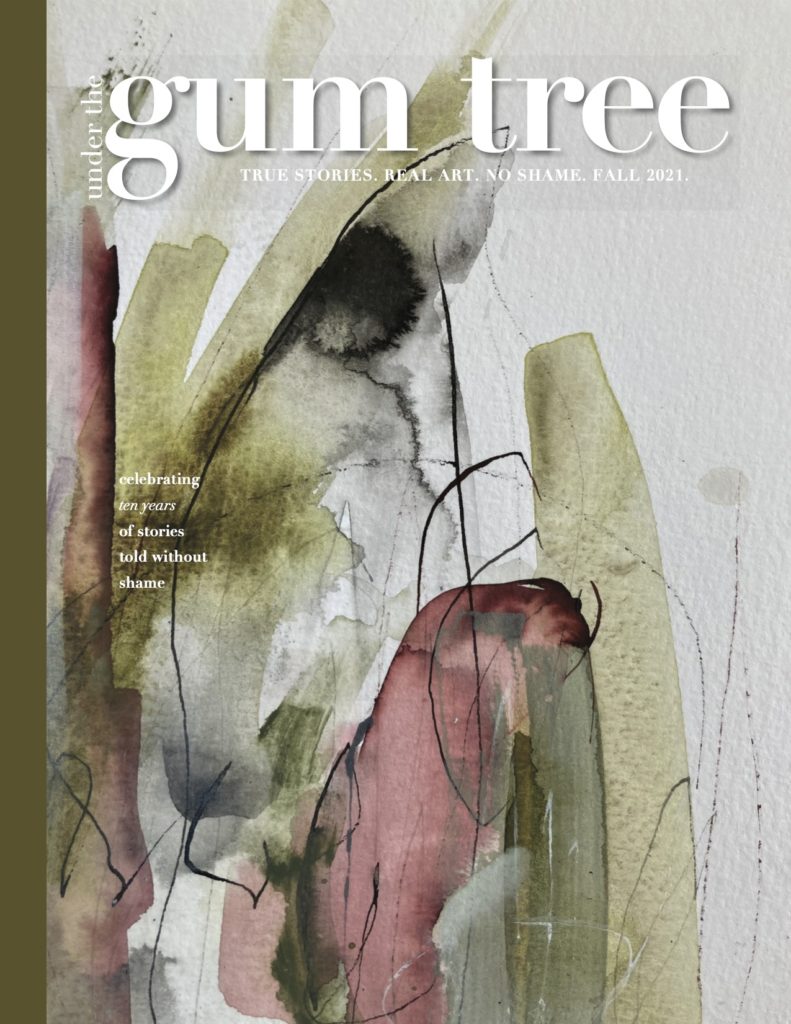 Celebrating 10 Years of Telling Stories Without Shame
Janna Marlies Maron
Celebrating 10 Years of Telling Stories Without Shame
A friend and I were talking the other day and I said that it feels like 2019 was just last year. Given everything that we have been experiencing in the past nearly two years, I am sure that feels true for so many of us.
But one thing doesn't hold up to that for me: The fact that this is the forty-first issue of Under the Gum Tree, and that it is, officially, our ten year anniversary issue.
How has it been ten years already?
When I started this magazine (which certainly doesn't feel like last year), I remember thinking I'd try it for a while and see where it goes. I thought I'd do it for a couple of years and have a handful of issues for my portfolio.
Instead, our team of contributors and volunteers has grown, and as more people have joined the team, the more I understood how beloved the magazine had become—it has evolved beyond just me.
It's known in the literary world as a place where writing and art is handled with care and presented in a beautiful, full-color format. It has been a place where many writers have been published for the first time—writers who we have watched go on to have books published.
We've also had internal growth and change over the years. Robin Martin, who had been with me since the first issue as managing editor, has moved on and, while I'm sad to see her go, I'm so grateful for her contribution in making this magazine what it is today.
With Robin's departure, I'm excited to welcome Dorothy Rice as our new managing editor. Dorothy is a long-time friend from the writing community in Sacramento, where everything started for us. Not only is Dorothy a previous Under the Gum Tree contributor, she is also the author of two memoirs and has been widely published in titles such as The Rumpus, Hippocampus, Brevity Blog, and The Saturday Evening Post, among others.
With this issue we are also excited to reveal a design refresh that our art director and designer, Evan White, has been working on behind the scenes. For the past five years, Evan has been the eye of our signature look and he's again created an aesthetic that continues to enhance the stories we publish.
Updating our look seemed appropriate as a way to not only mark the milestone of ten years, but also to further our commitment to showcasing literary and visual art as beautifully as we can.
After ten years of publishing stories without shame, I'm eager to see where the next ten years take us as we continue to publish true stories that speak to our shared human experience.
Here's to telling stories without shame, one decade at a time.

Janna Marlies Maron
Editor & Publisher