Click the links for a teaser excerpt of each piece…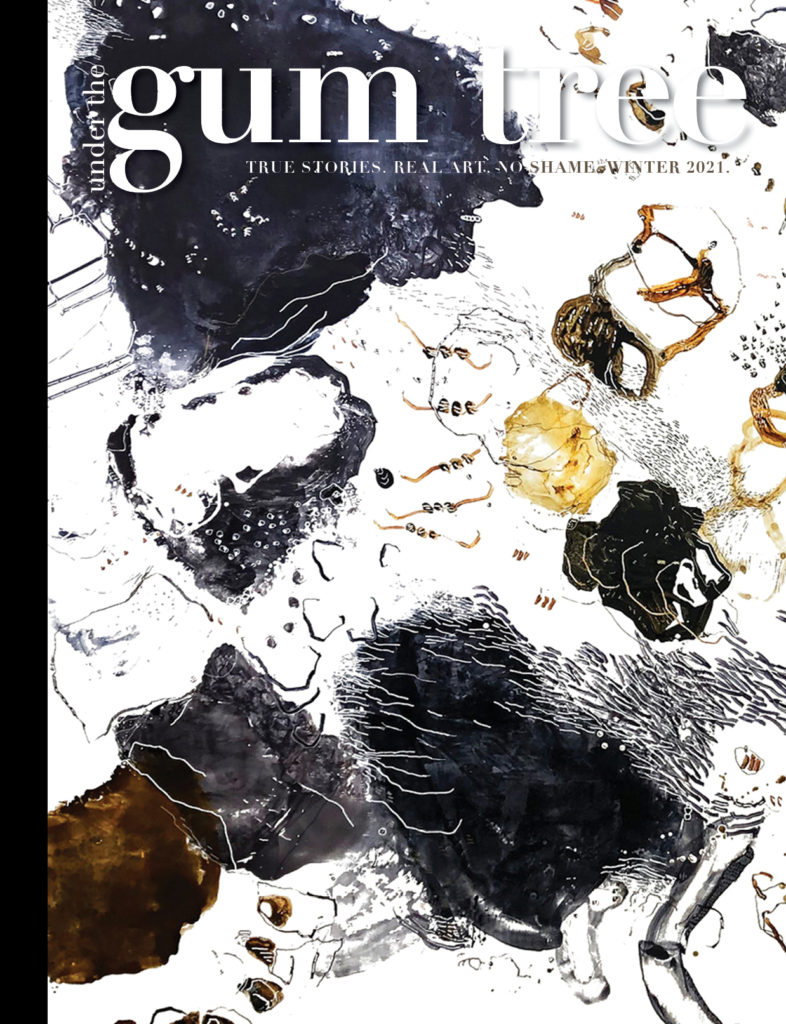 Moving Forward & Making Stories
Whew. We made it. It's 2021. I almost don't know what to do with myself, so I'm just going to keep doing what I've been doing all of 2020: Move forward.
If there's one thing I know, 2020 was a year for making stories, and that's what we are all about here at Under the Gum Tree.
As we enter our tenth year—ten years!—of publishing, I am reflecting on the stories we read for each issue that touch on similar life experiences (addiction, miscarriage and infertility, grief and loss, troubled parent-child relationships). And as we move into a new year after living through a collective and ongoing trauma, it's clear to me that we've never read stories about the type of things we've experienced in the past year.
Now before you rush to send us your pandemic stories, remember that we do look for nuance, subtlety, new perspectives, and authenticity of voice. That said, we are interested and eager to read the true, personal stories that many of you are already writing about 2020. We also continue to be committed to diversifying the voices we publish and sharing stories from writers who have been under-represented in publishing.
But, maybe more than that, I'm interested in what comes next in our recovery, in how we begin to heal. In a sense, it might be a little too soon to write about it, because we don't know what that healing will look like—we are on the cusp of it, and for many it has yet to begin. For now though, as we each embark on the road to rebuilding, I continue to find comfort in stories and I hope that you do too. It's one of the many things that has me feeling positive and hopeful for the new year—reading stories of others' bravery, resilience, and learning.
We all need stories to stay connected, combat isolation, and remember that we are not alone in our struggles—because of that, my team and I take seriously our responsibility to find and curate those stories, and this issue is no exception. The stories in these pages face the inevitability of death, the horrors of history, the frustrations and fears of the day-to-day, the joy of dancing, and the feelings evoked by memory. And as we read them, we, along with these writers, continue to move forward, every day toward more unknowns and, of course, more stories.
Here's to a new year of story making,

Janna Marlies Maron
Editor & Publisher