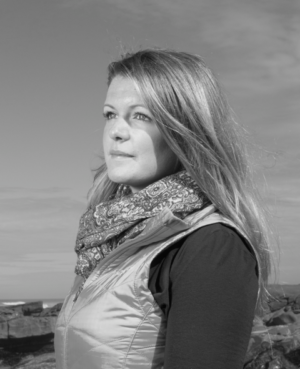 Featured in: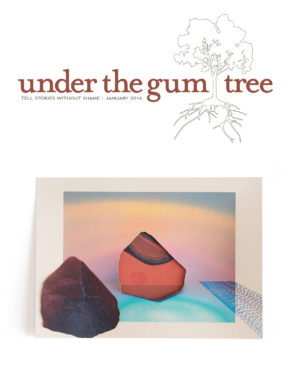 Verity Sayles is an essayist from central Massachusetts. She writes and teaches in Oregon, where she is an MFA candidate in nonfiction at Oregon State University and on staff at 45th Parallel Magazine. Her work appears in The Commonline Journal, Dark Matter Journal, and Burningword Literary Journal. She can be reached on twitter @saylesteam and at veritysayles.com.
What inspired you to write nonfiction in a world so drawn to the sensationalism of fiction?
I love nonfiction because it encourages you to see the ordinary "real life" as sensational. I love the form of the essay because it encourages a relationship between writer and reader—and sure, there is certainly that in fiction too—but with nonfiction I feel there is a direct relationship, it's like, come sit down and listen to me tell you about lobster, or whatever. And formal choices do a bulk of that work. Content is important sure, but there are thousands of ways to delight in the every day and I think nonfiction really allows for this. I love the flexible and shape-shifting nature of the essay, and also, admittedly, I want to the be the center of my essays. I want my experience to shape the words I put on the page.
When most people think of short pieces of writing—fiction or nonfiction—they most likely have something slightly longer than this piece in mind. What do you see as the benefits of having a shorter piece? What are the potential drawbacks?
I think short pieces are great because they are a challenge. There is a density to short prose; every single word and white space has to be doing a ton of work for your reader. They are a super saturated experience. I think that short pieces are great because they allow for a single moment to stand for a whole. For example, with Supposedly Succulent, I wanted to build a sense of class, of place, a feeling of discomfort, and insecurity of identity within one scene. I wanted the scenic details to do a lot of that work, to demonstrate that the narrator feels out of place. That's also why the perspective shifts from "we" to "I" too. But this could certain be in a longer essay too. I could see a moment of dinner functioning in a longer essay about moments of discomfort with your background, or perhaps ways we try to blend in. I think also in a longer work I would give more attention to internal dialogue and reaching to a universal experience, and really work to establish more of a presence as a narrator, this scene is simply a slice of a more complex (or at least I'd like to think so!) character, and in a longer work those complications could have room to breathe.
Do you feel that you invested as much in this piece as you might have a longer one?
A different sort of investment, perhaps. I wrote this piece for my very first nonfiction workshop at my MFA program. It was the first piece of my writing members of my cohort were going to read, I felt it had to really define me, so I spent a long time writing and reworking it. My roommate is a poet, and we might spend similar amounts of time on a poem and an essay—but she is writing twenty words and I'm writing twenty pages. I think it's just where you put the weight of your revision, and what you want the piece as a whole to do. I'll be cutting whole pages out and she will be toying with a single word and it can take the same amount of time. Revision is hard no matter what the length. Though I do like short pieces because you can see the whole thing at once—I have a thirty page essay I am working on right now and it's spread the entire length of my living room, I'm just trying to get a hold of it. Longer essays can develop unwieldy tempers and be hard to rein in sometimes.
The whole piece is written in active tense, why did you make that decision and what do you think it adds to the piece?
I like active tense. I also wanted the reader to move along with the author. I wanted to craft an experience on the sonic language level—from light sounds like 'lazily' 'lilting' 'tinkling' to this pretty acerbic, harsh, guttural language during the dinner scene, to finally, the reveal. I think that the active tense carries the reader through those sounds—especially read aloud.
The piece focuses on the lobster imagery, what was your thought process in picking this image and what does it symbolize to you?
Even though I'm from New England I never ate lobster growing up because it was so expensive. It's also a highly ritualized meal—you have to know the steps involved and how to go about it, so it's clear to pick out the outsiders. I knew I was going to eat my first lobster and I had looked it up online and tried to memorize the steps before sitting down at dinner. As soon as I sat down, I forgot everything and felt so self-conscious. Now I eat a lot of lobster in the summer (I love lobster rolls!) but the process of eating it is so messy. I am always still hungry and I smell like lobster juice for days after. But it's sacrilegious to say you don't like lobster in New England, so I still pretend I love it because it's usually part of a fancy celebratory meal—I don't want to be unappreciative, or ungrateful, and I like the butter, but really, I would so much rather have a lobster roll.
Your piece has lots of external description and consequently little internal dialogue, was this a conscious decision or is this how you approach the world in general?
Not always, I think the choice to have this piece rely largely on external description is because this piece is really about pretending, about crafting an exterior to match the details around you. I wanted my reader to be so focused on the action and description of eating lobster, to feel a sense of discomfort with the imagery of the eating process, that they forget the author is there, a part of this anonymous "we." Then there is a shift at the end, and the narrator readily admits she is pretending, so I didn't want her to reveal her actual thoughts until then, I wanted the language of description to serve that purpose instead. It's sort of like rewarding your reader in that last move of an essay—you're letting them in on the secret that (hopefully) makes them recast their initial reading.