Featured in: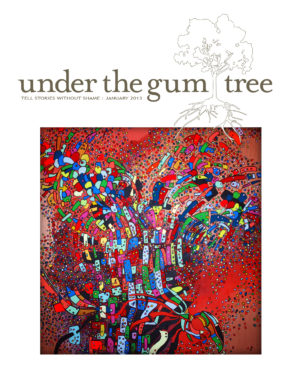 We're bringing you one last contributor from Issue 6: Timothy Kenny. A former newspaper man, non-profit foundation executive, and college journalism professor, he has reported widely from Central and Eastern Europe, including Croatia and Bosnia during the early stages of the Balkan conflicts in the 1990s. His narrative nonfiction has appeared in The Louisville Review, The Gettysburg Review, The Kenyon Review Online, Irish Pages and, forthcoming, in The Green Mountains Review. We had the honor of publishing his piece "Turning Sixty-Six and Six in Umbria" Here's a short excerpt:
The persistent worry that began that first summer sharpened in focus during this last one: The certain knowledge that I have less time than I want before The End arrives, unbidden. I stare at being older in the mirror every morning; lately, it is not a pretty sight.
Now that you're hooked, let's hear what the author has to say.
When and why did you start writing?
I've been a journalist since 1972. Daily journalistic writing, which I produced for 23 years, is not the same as what I'm doing now with narrative nonfiction. I see the stories I'm writing today as an expanded version of the more straightforward style of journalism I did for so long.
What do you enjoy most about writing?
I like telling a story that no one has told before in quite the same way. That and trying to write a sentence that has never been written before.
Who/what is your biggest inspiration when you write?
I have worked in more than 45 countries as a reporter, teacher and journalism consultant. In the 1990s I frequently reported from Central and Eastern Europe after the fall of the Berlin Wall. Since then I've lived in Romania and Kosovo and spent months in Central Asia, including Afghanistan. I've also worked a bit in Central America, Israel, the Caucasus and other places.
Do you have a writing schedule?
Typically I'll write for two or three hours in the weekday mornings, often in later afternoon as well after I've picked my daughter up from school. I sneak in writing whenever I can get to the computer, really.
What is the hardest part of writing for you?
I guess I would not describe writing as hard. I would say it's something I do and enjoy doing. Getting started can occasionally take time. But once I start I pretty much keep going until I'm done. I'll fool around in my head with an idea for weeks sometimes before I begin the story. I also tend to fine tune a piece for a while, too long I suppose, before I'm willing to let it go. I have realized, however, that a thing — anything, including writing a story — is only worth so much time. Rewriting has to stop at some point; sometimes that's difficult for me but I've learned how to stop.
How long does it usually take you to finish a story?
It can take weeks. I do what most people do. Write a story. Set it aside. Pick it up. Tweak it. Put it down. Repeat. I'll do that for weeks until I'm satisfied. Even then I'll often have different versions of the same story out because I can't stop messing with it. I find that if a story is getting rejected it usually needs more work, so I'll edit and rewrite if the story gets nixed four or so times. That's a pretty good indication that something is wrong. On the other hand, I've written stories in a couple of hours and changed them very little. A story of mine that appears in the current edition of the Green Mountains Review was written like that.
Are you working on anything right now?
I'm peddling three stories at the moment and probably won't start another piece until I've gotten a commitment to publish one of the three. Once I do I'll start working on a story about hotels I've stayed in. I've been thinking about this for a while. There have been a few over the years. I'm also expanding the story that appeared in Under the Gum Tree into a larger piece about being the much older father of a young child. My daughter and I are 60 years apart.
How many rejections did you get before you had something published, and how did you deal with them?
To be honest, I wasn't rejected very many times before my first narrative nonfiction story appeared in 2009. I had read a lot of literary magazines and tried to pay attention to what kinds of stories people were publishing. I was also writing about the larger world, Kosovo in this case, a place not many people have traveled to.
How did you celebrate when you got your first acceptance?
I don't think I did anything unusual, but I remember being relieved to know that what I was doing was good enough to get published. It gave me confidence to continue.
Do you prefer typing or pencil to paper when you write?
I write on a computer. If I were a poet, however, I'd put pencil to paper.
What do you do when you're not writing?
When I'm not writing I help my wife raise our daughter. When it's not winter I cut down trees and brush on our rather large, wooded lot in small-town Connecticut. I also read books and two newspapers a day, watch the nightly news on television, plan cushy family trips to Europe, workout at the gym and occasionally edit the work of others.
Who is your favorite Author?
When I was younger my favorite writers were Irish: Joyce and Yeats and Synge and Brendan Behan, Sean O'Casey, people like that. I also read a lot of poetry. Eliot and Gerard Manley Hopkins remain two favorites, along with Yeats. Now, as noted earlier, I'm all over the place and can't point to a favorite author. The more short stories I read the more I like the form and find wonderful writers everywhere.
What are some of your favorite books?
Among my favorite books are Balkan Ghosts by Robert Kaplan, Middlesex by Jeff Eugenides, The Shipping News by Annie Proulx and The City of Falling Angeles by John Berendt. The Road by Cormac McCarthy is stunning. I think Malcolm Gladwell and Jared Diamond have a lot to say. I should also mention Paul Theroux and Colin Thubron (In Siberia) for travel writing and Sebastian Junger and Dexter Filkins for war reporting.
Do you have any advice for other writers?
I think writers should try and see the world a little more as editors see it, mostly by keeping track of the details of their submissions.
Is there anything else you'd like to share with the readers?
Yes: Buy good writing. Read it. You'll make the world a better place. What more can anyone ask?