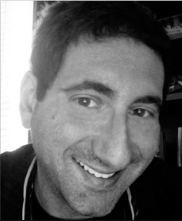 Featured in: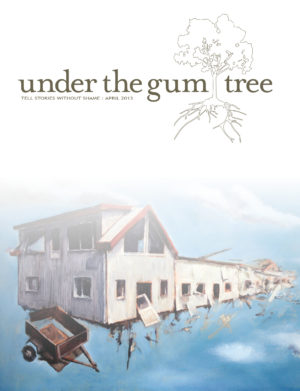 Michael J. Soloway grew up eating oranges, catching lizards, and listening to the gasp of tennis ball cans being opened in south Florida. He receive his Master's Degree in Creative Writing at Wilkes University and has served as managing editor of more than a dozen nonprofit magazines. He just finished his first memoir Share the Chameleon, about attempting to break his family's cycle of abuse as he becomes a father for the first time. His work has been published in other magazines such as Brevity Magazine, Split Lip magazine, Red Fez and Serving House: A Journal of Literary Arts magazines. We had the honor of publishing his story "Light Baked Alaska," and would love to share a snippet of that with you now.
"The stars are different here, too, in the summertime, when the heavens open up and reveal what's been there all year, hidden under a veil all along. They are droplets of light; they are pinholes in the black above. I stand now, under their canopy, a married man on his honeymoon, slicing through Alaska's Inner Passage aboard a cruise ship, leaning over the balcony of the suite we just 'had to have.'"
And now it's the author's turn to tell you a little about himself.
When and why did you start writing?
My writing journey began in the third grade. Before then, I wanted to be what most boys wanted to be in the mid-1970s—an astronaut, a cop, athlete, architect, inventor. Then came Mrs. Charnock's English class, where we learned the 5-paragraph essay. Most kids loathed the assignments, but I found stringing words together satisfying and inspiring. Growing up in Florida, my scenes often contained one too many palm or orange tree. Disney World was also a common theme. Although the assignments earned me As, I have to admit that these essays were atrocious pieces of work. Every other word was an adjective. I suppose most authors cringe at past writings and wonder what they were thinking when they committed to a sentence that was clearly "all wrong." But that's what growth is—not only as a person still forming an identity, but trying to figure out what their voice and writing niche will ultimately be. I still have all of those third grade essays with me today, in a trunk where they belong. I haven't read them in a while, but I imagine my young daughter will someday. Perhaps they will inspire her or serve to show her what to do or not to do as a writer, depending upon your point of view.
What do you enjoy most about writing?
The excitement of creating something from nothing and putting sentences on paper (or screen) that I never thought I could possibly write. Even as a primarily creative nonfiction writer these days, there's a part of me that must turn memory into something extraordinary and nostalgic. Although I am writing the truth, I must still find a way to entertain and write interesting scenes, as I remember them. That's no easy task, but it's an exciting one. I believe every writer, no matter their genre, age, or level of "experience," wakes up each day wondering if they'll "have it" that day. Will my brain cooperate with my hands and the whiteness of the page? What can I possibly say to rival what I wrote the day before? We all wonder if we'll ever be able to duplicate that one magical sentence we wrote a month or even an hour ago. But fear is a great motivator and the end result is so satisfying.
Who/what is your biggest inspiration when you write?
It used to be other authors, favorites such as Michael Chabon, Natalie Babbitt, Jo Ann Beard, and Lee Martin. Mentors have also been a huge inspiration to me: Beverly Donofrio, Kevin Oderman, Kaylie Jones, and J. Michael Lennon. Today, it's simply the story itself. And my daughter, Madeline. I'm not a coffee drinker, so that's what wakes me up each and every morning looking forward to what's left to tell, what's left to create.
Do you have a writing schedule?
With a 22-month-old daughter, to say that I have a "writing schedule" is a bit strong and misleading. When I was younger and spent more time alone, with less responsibility, I was a midnight writer. I could only write in the dark, by the glow of a candle or computer screen. There was a certain romanticism and anonymity that I felt I needed back then. Today, I write when and where I can: in coffee shops, standing up at the kitchen counter, in bed, at work (don't tell my boss), or bookstores. Of course, I'm always writing in my head. The key is to simply "get your butt in the seat," as a former professor of mine, J. Michael Lennon, has told me. Once it's there, commit yourself to write something, anything, even if only one sentence rolls down into your fingers after an hour of being glued to your chair. Whether I'm in the middle of a piece or larger project, I set a goal of five pages a day, but that plan might end up looking like two pages one day, and eight the next, depending on how I'm feeling. So, don't worry if you write one word today, tomorrow you'll probably write a book! Just figure out what works for you, eliminate as many distractions as possible, and get your butt in the seat!
What is the hardest part of writing for you?
Getting started. It's like going to the gym—motivation is key, because once you get there you know you'll feel better about yourself for doing it. Taking that first leap of faith is vital. Also, being away from my family and putting myself in solitary confinement isn't as easy as it once was when I was that midnight writer.
How many rejections did you get before you had something published? How did you deal with them?
How did you celebrate when you got your first acceptance?
Nothing extravagant. I know, like life, the Writing Life is a journey. My first acceptance could have been my last. Luckily it wasn't. I believe I shared the news with my family and simply smiled.
Do you prefer typing or pencil to paper when you write?
Typing. A pencil just can't keep up. That said, I think every writer should take a moment, perhaps once a year, to write on paper. I've had to do it in workshop environments and it definitely slows the brain down and takes the creative process in completely different directions.
Are you working on anything now?
I'm currently working on a craft paper for my MFA thesis that explores identity and exaggeration in memoir, as well as edits to my own memoir, Share the Chameleon. In my free time, I write personal and instructional essays, as well as plays and flash fiction.
What do you do when you're not writing?
Play with my daughter. We introduced her to Star Wars recently. She can say Jawa, Luke, and D2. "Chewie" is her favorite. I also watch movies, follow the New York Yankees box score every night, and read, for inspiration. Above all, I think about writing.
Who is your favorite author?
I'm going to have to go with a list by genre here. Narrowing it down to one is impossible for me. Fiction: Michael Chabon, John Steinbeck, Kate Chopin, Gabriel Garcia Marquez, Edgar Allan Poe; Nonfiction: Lee Martin, Lucy Grealy, Augusten Burroughs, Jo Ann Beard, Steve Almond; Children's Literature: Natalie Babbitt and Louis Sachar.
What are some of your favorite books?
Cannery Row, One Hundred Years of Solitude, The Awakening, The Mysteries of Pittsburgh, Wonder Boys, Catcher in the Rye, Tuck Everlasting, Holes, From Our House, The Cliff Walk, and Autobiography of a Face.
Do you have any advice for other writers?
Go with your gut. It's never wrong.
Is there anything else you would like to share with the readers?
Never think of it as "rejection." Use the word rebuff. It always reminds me of waxing a car. Your work just needs a polish, then it's ready for the world to discover!