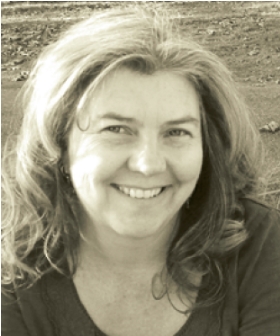 Featured in: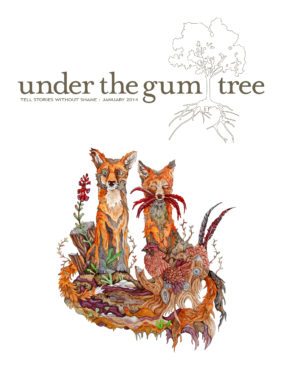 Laurie Easter appeared in our newest issue, and we did an interview with her that we just had to share. She writes from her home in Southern Oregon where she lives in a funky little cabin off the grid and on the edge of wilderness. She hold an MFA in writing from Vermont College of Fine Arts and has been awarded a fellowship to the Vermont Studio Center. This was Laurie's first time being published in Under the Gum Tree, with her story "Something to Do With Baldness," but her other work has appeared in Hippocampus Magazine, Connotation Press: An Online Artifact, and Oregon English Journal. She's currently working on an essay collection about loss grief.
Here's a short quote from "Something to Do With Baldness":
"Lucky for me, I didn't procrastinate. For if I had, it would have been like looking in the wrong direction as a brilliant shooting star streaked across the sky, only to turn my head in time to see the tail fizzle."
Now, without further ado, Laurie Easter's Interview:
When and Why did you start writing?
I stared writing when I was in elementary school. English and writing were always my favorite subjects. I wrote a play when I was around ten years old and essays on comets and poltergeists. I avidly wrote in my journal. I was in seventh grade when I declared to my English teacher that I was going to be a writer. I told him that I wanted to write stories so that other kids like me wouldn't feel alone. And essentially that's what I'm doing now, only it's taking more than thirty years and my audience so far is not that of children, but adults. Still, the sentiment is the same.
What do you enjoy most about writing?
Connecting with others. Writing is communication, and I enjoy communicating – both through reading others' words and having my own words read. I enjoy the process of creation, taking all the stored energy and thoughts from within and turning them into something tangible. I simply love playing with language and enjoy nearly every step in the writing process from first draft to revision and editing. Also I'm a total geek; I absolutely love grammar, and because of this (among other reasons), my kids think I'm nuts.
Who/what is your biggest inspiration when you write?
I am inspired my nature and quietness and a deep need to understand and resolve life's experiences. Poetry inspires me too.
Do you have a writing schedule?
I don't have a set schedule, and I don't write every day. I'm what you would call a "binge writer." I'll work ferociously for a chunk of time – days, weeks, months – and then not. Typically afternoons are my most productive writing time, which can be problematic because that's when other things need to be accomplished.
What is the hardest part of writing for you?
The hardest part of writing for me is keeping a regular writing routine. When I haven't been writing regularly and am out of practice, the hardest part is trying to get back in the flow. This can feel debilitating at times. But somehow I manage to find my way back. It's not easy. It can be downright painful. But when the words do come again, it sure feels good.
How long does it usually take you to finish a story?
It depend son the piece, but I'm horribly slow. Some pieces take me years, others weeks or months. I do a lot of writing in my head during those times that I'm not actually sitting down and putting pen to paper or typing. Often i will make copious notes before I ever get around to writing a draft. I have an essay that I'm currently revising that swirled in my head for a year before I actually wrote a word, but when I finally sat down to write it, the words flowed effortlessly. I then had to put it through multiple drafts to get it just right.
Are you working on anything now?
I am currently working on what I hope will be the last few essays of a collection on loss and grief.
How many rejections did you get before you had something published? How did you deal with them?
I wrote a regular Op-Ed column for the college paper during my undergrad, and I wrote some pieces for blogs and newsletters that were solicited. My first publication from an unsolicited submission however, was in a scholarly journal. A happy as I was to be published in that journal, it wasn't "creative writing," and I found it difficult to consider myself published without having landed one of my creative nonfiction pieces in a journal/magazine. I had close to fifty rejections before I recieved my first acceptance of a personal essay. Rejection for me is an ever evolving experience. At first I celebrated rejections because it meant I was in the game of submitting, and I saved the form letters in a file (this was before online submissions). But after so many, the rejections began to wear on me, and I'd get kind of depressed. Then at a certain point, I learned to be a duck, and (mostly) let them roll off my back like water. Now rejections spur me on to make more submissions.
How did you celebrate when you got your first acceptance?
I whooped, jumped up and down, and high-fived my husband. Then I emailed some of my closest writer friends.
Do you prefer typing or pencil to paper when you write?
I love to write by hand when I'm free-writing. It feels more intuitive. But i have severe carpal tunnel syndrome, so I can't do this for very long before my hand goes numb. As a result, typing is my most productive means.
What do you do when you're not writing?
A lot of chores: washing dishes, cooking meals, collecting eggs, and gathering firewood. And I spend a lot of time editing for other people. Gardening in the spring and summer and then harvesting and processing the food in the fall. I spend entirely too much time on the internet. I love taking walks in nature, spending time with my family, traveling, and reading. I read creative nonfiction submissions for the literary journal Hunger Mountain.
Who is your favorite Author?
I don't have one favorite author, but a few I love are Alice Walker, Abigail Thomas, Barry Lopez, Brenda Miller, David Sedaris, and Brian Doyle.
What are some of your favorite books?
This is an awkward question for me because when I think about my favorite books, the ones that usually come to mind are children's books, which makes me feel as though I've never grown up! But I'll give it a shot: Naked and Me Talk Pretty One Day, David Sedaris; The Marriages Between Zones Three, Four, and Five Doris Lessing; The Color Purple, Alice Walker; Late Wife, Claudia Emerson; What the Living Do, Marie Howe; and Charlotte's Web – because I have to include at least one childhood story.
Do you have any advice for other writers?
I can't remember who said it, but this has stuck with me: "Write the story that only you an write."
Is there anything else you would like to share with the readers?
Thank you for reading and supporting independent publishing. I'd love to hear from any readers who are inspired to write to me. I can be reached at www.laurieeaster.com