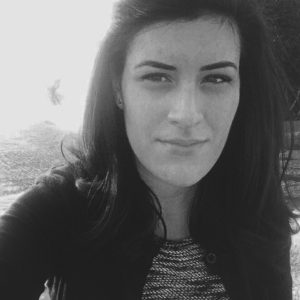 Featured in: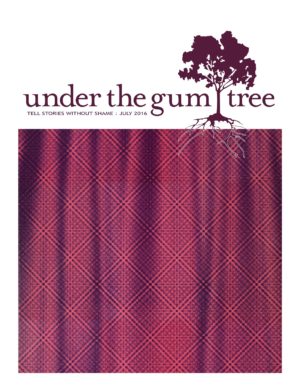 Katie Martin is a Phoenix-based writer and graduate of Pacific University's MFA program. Her work has appeared in several journals, including Green Briar Review, Silk Road, Vol. 1 Brooklyn, Gravel Magazine, and Split Lip Magazine. A chapter of her in-progress memoir has been nominated for a Pushcart Prize. Katie loves planning trips to Disney World and running with her lazy dog.
When and why did you start writing? What do you enjoy most about writing and how has it shaped other aspects of your life?
When I was about six, I wrote, "I hope to be a writer someday" on a scrap of paper that I still have. I thought that was such a lovely memory until I flipped the page over and saw that I'd also written, "I want to be Indiana Jones" and "I want to be a wood cutter." At least one of those options stuck.
Your piece is a "Flash Feature" this month. What was it like working with such strong emotional depth in a limited amount of space like this one?
This essay seemed to lend itself to be a flash piece, since the event itself happened so quickly. For my family, in the early stages of dementia, these odd, emotionally charged little incidents would just pop up, and I didn't know what to make of them until they were hindsight. It was all those little things that eventually added up to a diagnosis.
Are there common themes between your pieces that you like to explore? Do you use your work to come to a place of understanding or is your work a reflection of reaching an understanding prior?
Right now, everything I write seems to be about my dad and this disease, in spite of my best efforts! I'm working on a memoir that centers on his last few years and the changes it brought. I hope that the theme will ultimately be forgiveness and acceptance, not of the disease, but of this life that can be wild and messy and painful and lovely, all at the same time. I try to write from a place of having spent some good time reflecting beforehand. All of this is still a relatively recent event, and I'm sure if I wrote the same story in ten years, it would be completely different. But all I can do is dig in as deep as I can and hope to restore order to some of those memories.
What was your editing process like for a piece that is so intimate? Did you need distance for clarity?
I'm not a very good editor, unfortunately! I have a bad habit of writing one . . . painfully . . . slow . . . word . . . at a time. I did need the distance that the years have brought. In the heat of the moment and for several months after, it appeared that my typically mild-mannered dad was just casually strangling our dog. It took some time to realize that it was so much more.
Leash" was a small, but impactful glimpse into your life. How has your experience affected your writing now? Do you come back to these moments often?
This experience has radically changed me and completely changed my writing. I've learned so much about people and how we all experience loss and grow from it. I think writing has taught me to pay better attention to the life around me—to try to see deeper than the circumstances right in front of us. It's easy to look back on those moments in life and wish you had known then what you know now. But as we all know, it doesn't work that way. And maybe it shouldn't. I think all these events shape us into (hopefully) stronger people, and we wouldn't be the same without them.
Dementia is a disease in which all parties suffer. What was the biggest takeaway you wanted your audience to have considering it is a disease that we, as both a society and in terms of medicine, still know so little about?
Researchers are expecting that the number or people with some form of dementia will jump from 5.2 million to 13.8 million by 2050. It is absolutely sweeping our country, and it's hugely important for all of us to understand what it is and what it isn't. Dementia is way more than losing your train of thought or misplacing your keys or even forgetting names. It's not romantic, (even though, yes, I still love The Notebook). It can destroy families, because the behavior coming from the loved one is so confusing in the early stages. We're not used to a disease changing someone's personality as quickly and dramatically as dementia does. These people often lose their marriages, their friendships, and their jobs. Someone incredibly sick can become homeless in a scarily short amount of time. I hope that readers will take away some compassion for these individuals and their caregivers. I hope they know just a little bit of what to look for, and maybe not be as caught off guard as my mom and I were if someone in their family suddenly starts acting like a different person. I hope they can forgive themselves for the way they've treated the people they love and forgive those people for the way they've been treated. I think sharing our stories can only help us all treat each other a little better, a little kinder, a little more human.