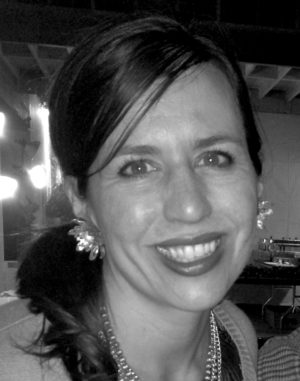 Featured in: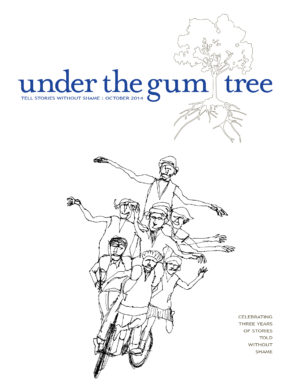 Kate Washington is a Sacramento-based writer. Her work has appeared numerous places such as in The Washington Post, Yoga Journal, Sunset and the Bellingham Review. She is noted for contributing at Sactown Magazine and she is a co-founder of nonprofit literary press, Roan Press. When not writing, Kate also spends much of her time parenting and—as we can see in her story, "Promises like Piecrust"—baking.
Follow this if link you're interested in seeing and hearing Kate read that piece live at our three-year anniversary reading. (If you only want to see Kate, fast forward to the 19-minute mark).
Your piece is so rhythmically and phonetically rich that in some places it sounds like pure poetry
"Nothing holds so much promise in a kitchen as a pie cooling on a wire rack, lumpy with sugared fruit, drippy juices pooling, translucent sheets of toasty fat-bound flour sloughing off the crust at a touch."
With this specific quote in mind, what is your writing background?
My writing background is varied. I spent my mid-20s in graduate school for English literature, with a specialty in the Victorian era. That's where the title of this piece and the reference to Christina Rossetti, a Victorian poet, comes from. After grad school, I moved first to editing and then to food writing, first at a magazine and (for the past 10 years) as a freelancer. In recent years I've been more interested in the essay form and have written a lot of personal memoir and creative nonfiction. This piece probably brings together the various pieces of my writing background more than any other I've published.
Have you always had a penchant and fascination for creative nonfiction or did it develop from another area?
I've always enjoyed reading the essay form and writing in it from time to time—my first published piece was about the experience of swimming in San Francisco Bay and appeared in a newspaper travel section—but I only started regularly working in it over the past five years. I was too busy working and chasing assignments as a freelance writer before that, and also my mother's death gave me a lot to grapple with. It has proved to be a subject I've worked with a lot, and writing about various aspects of her and my relationship with her has been both fruitful for my work and helpful for me personally.
When did you start writing? Do you write often about family? What other topics interest you?
I can't remember a time I didn't like to write. I started writing about food and making up recipes when I was a kid: my first recipe was for a cookie I called "chocolate pocklets" (featuring chunks of chocolate in the middle of sugar cookie dough). I also wrote poetry and stories at a young age (no poetry since then, though!), and even loved writing my school assignments. I recently found one that was an autobiography and family history from fifth grade, so I guess I've been writing about family for a while. Family has been a lot of what I've been working on lately, but I'm also branching out with a new project, a hybrid long essay on nature and ecology that includes a lot of memoir. It's specifically about a creek watershed here in northern California where we have a family cabin.
It's amazing in your piece that you can associate a pie to a certain person in the example of the lemon meringue with your grandmother, both of them, "a showy golden number" as you write. Were you to assign a pie to yourself, which would it be?
I am not sure I can judge that for myself! Maybe apple cranberry: looks like regular apple at first, but has some colorful (and maybe a bit tart) surprises.
What is the story behind the tradition of pies? You mention a great grandfather's orchard of fruit trees, is this when it began or was it before that even?
The orchard is actually on the other side of the family from the pie bakers! My dad's dad originally had the orchard, which is an almond orchard with a plot of various fruit trees—fig, peach, apricot, orange, satsuma, Meyer lemon, plum, pluot, pear, even persimmon—for family use. The pie bakers have all been on my mom's side: her grandmother, my grandmother, my mom. I'm not sure why pie became such a thing for our family. I guess everyone just responded positively to eating a lot of pie. In my mom's generation it definitely helped and spurred on her baking to have so much fruit that needed to be used up. She used to have a gadget called a Seal-a-Meal that vacuum-sealed food for freezing, and she would preserve the summer fruit by making fruit pie fillings and stack them in our extra freezer. I think that was inspired partly by hating to simmer and can jam in the heat of summer, and I can't blame her.
What is the strangest pie you remember your mother making or that you've made?
The one that gets the most puzzled response from people I mention it to is probably the sour cream and raisin pie, which I've found sounds disgusting and bizarre to modern eaters. It's very old-fashioned, and I understand it was traditional in California. The inside of it is grayish and goopy and quite sweet because of the raisins, but cut with the sour cream and some spices, and then there's a meringue top. I can't remember the last time I had it but I wish I had a slice right now. I remember my mom taking it to some holiday potlucks and us getting to bring home quite a bit.
You mention that it was two years before you could make a pie again, how long did it take for you to write your story? Was there a long period of writing just to make sense of things?
Actually parts of this piece were written long before my mother died—probably 10 years ago or more, when I was trying to write something lighter, just about the pies in my family. Pulling those pieces together with the darker material about my mother's death took a long time and many iterations. When I first drafted this version I had not yet returned to baking pies, so it ended differently, on a note that was more like "maybe someday I'll make one again." Two Thanksgivings ago I felt like I really had my pie mojo back, though, and the pies turned out well, and that's when I felt like I could really finish the piece.
How has teaching your daughters to make pie crusts of their own gone? Do you see similar emotions in them regarding the crusts' construction that you felt? Any refuse of crust remnants find its way onto the kitchen floor?
Well, it hasn't gone great because it turns out they aren't really that interested, though they both like eating pie cookies. For some reason neither one of them likes fruit, and I mostly like to bake fruit pies. Maybe I should make more chocolate cream pies to hook them in. I figure their interest will come someday; they're only 9 and 5 years old. I'm going to try again with getting them to roll out crust next week. They like the rolling.
When you're not writing, what else are you doing?
Hanging out with or shuttling around the aforementioned kids, working out (I have discovered a surprising-to-me love of weightlifting), puttering around in my garden (I wish I did that more), drinking coffee, reading books, wasting time on the internet, making dinner, grocery shopping, laundry, more laundry, errands, and whatever else seems to need doing.
With Thanksgiving right around the corner what are your pie plans?
Lemon meringue and pumpkin. Lemon meringue is my dad's favorite, and he is turning 70 on Thanksgiving Day this year, so that is a definite. And I don't feel like it's Thanksgiving without pumpkin pie (whipped cream mandatory). Black Friday pumpkin pie breakfast is something I look forward to all year. I would love to have an apple cranberry pie too, but we only have six adults coming to Thanksgiving dinner and half a pie per person seems possibly excessive.