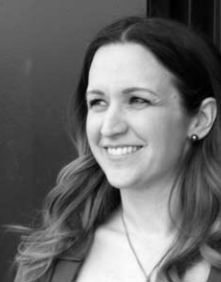 Featured in: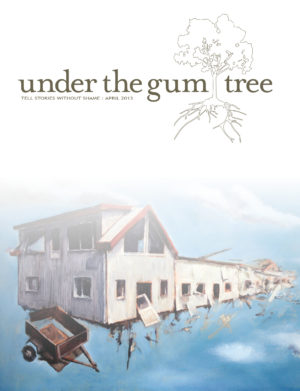 It's time to introduce you to our first author from Issue 7: Heather Scott Partington was raised in the Central Valley and earned a BA in English Literature from UC Davis. There, she discovered her love for Norse myth and a good kenning. A classically trained ballet dancer, she apprenticed with Sacramento Ballet and was a member of Sacramento's CORE Dance Collective. Heather is a high school English teacher, wife, and mom to two monkeys, Addie and Hank. She is currently a Fiction MFA candidate at UC Riverside's Palm Desert Campus. Catch up with her on her website or her twitter page. Here's and excerpt from the story we were lucky enough to publish, "Still":
"The emergency room bustles with injuries and sick coughs—the proximity of such fresh damage seems as though it might be catching. I want to retreat inside myself, or inside a bed, to pull the covers over my face in a passive act of flight: isolation without action."
When and why did you start writing?
I can't remember not writing, so I can't say there's a specific time I started. I've always loved to write essays, which is weird, I realize now. I had way too much to say all the time. My emails were too long. My greeting cards were too long. I'd been making gifts out of things I wrote since I was a kid. In my thirties, I stopped dancing and I was badly missing the creative time I got from improvisation and performance. I needed an outlet and writing seemed cheap. Dance taught me to love the discipline of dedication to a craft: working at something daily and then sharing it with the people I love. Developing my writing life met all of those needs and tapped into something I'd already been doing.
What do you enjoy most about writing?
I like the idea that my words give me immortality. I like that my children will be able to see what I wrote about them, about our lives, about what I thought and felt. But the writing act is also meditative. It helps me to put things into perspective, to deal with them in healthy ways or to think about how I want to categorize them. The act of sitting down to put an experience on paper is so independent. I've come to really love it. Writing fiction feels so indulgent. It's like being a kid, making up stories, writing things that are taboo or shocking or embarrassing. People don't get to play much once they're adults, but I do.
Who/what is your biggest inspiration when you write?
The people I've been lucky enough to learn from and with that have been willing to be vulnerable on the page inspire me. And I don't necessarily mean in a weepy, look-at-me way. Sometimes humor can be vulnerable, too. I'm most inspired by people who just tell a story and don't try to talk around anything because it might be sensitive. Honesty inspires me. Risk-taking inspires me. Other people creating things inspire me.
Do you have a writing schedule?
I don't have a scheduled time per day when I sit down to write, but my life is very scheduled. I teach five classes of high school English and I'm in a MFA program, so my life is juggling act of responsibilities if I want to meet deadlines and see my kids and cook dinner every night. I stay organized so I don't end up trying to write late and night and crying while I do it. I'm old enough now to know that I'll hate anything I have to do in the middle of the night because I put it off for too long. I know how many pages I can write per hour and I know how many hours I need to write per week to stay on deadline for my program. It's helpful to have deadlines right now. And it's helpful to have friends who push me to stay on track. I'm in a writing group where we try to write 500 words a day. Just 500. Doesn't always happen, but when I can do it I feel like a million bucks.
What is the hardest part of writing for you?
Two things. I don't have a dedicated space at home, like an office. So it's hard to carve out silence for myself or find a table at Starbucks where nobody will bother me. But the thing I struggle with the most is writing when I am under the pressure of a deadline and life interferes. Sometimes I'll have hours and hours to write but I won't be capable of putting two words together because I'm somewhere else emotionally. It's those times I struggle the most to keep my butt in the seat and my mind on the page.
Are you working on anything now?
Myself. And after that, mostly deadlines for my MFA classes, which are chunks of my thesis, a collection of short stories.
How many rejections did you get before you got publish? How did you deal with them?
"Still," the piece that was just published in Under The Gum Tree, was my first publication. It was rejected a fair number of places first, but I expected that. I tried to frame rejection like cuts at a dance audition. I think it's a matter of finding the right place for your story at the right time. Just like you might not be the right dancer for a part even if you're a good dancer, your story might not be the right story for a publication even if it's a decent story. So I took all the feedback from rejections, tried to grow from it, kept writing, and kept hoping that I'd get better with each one. Just like auditions. I hope this is an attitude I can continue to have in the future as I send more pieces out.
How did you celebrate when you got your first acceptance?
I woke up my husband (it was 6:00 a.m.). I emailed my best friend and used CAPS excessively. I did a happy dance around my bedroom.
Do you prefer typing, or putting pencil to paper when you write?
I am way faster on the computer. But I am not very good at sticking to the task at hand. For that reason, lately I've been writing my first drafts longhand. (With pen! I can't stand pencils.) I like the act of typing these drafts as my first revision. I think it makes me more considerate of the language I use. I think my writing has improved since I switched to this strategy, so I'm going to stick with it for a while.
What do you do when you're not writing?
Sleep. God, I love to sleep. Read books like crazy. Play with my kids. Lay in the sun. Learn as many of my grandma's recipes as possible. Well, those are the things I want to do, and the things I do when I have free time. But a fair amount of my actual time goes to things like grading papers when I'm in school.
Who is your favorite author?
My favorites are the authors I have sentimental attachments to because of what their books meant to my education: Barbara Kingsolver, whose book Animal Dreams was the first book that knocked my socks off in high school. I had never read a book like that before. I feel the same way about Charlotte Bronte for Jane Eyre and William Shakespeare for Hamlet and King Lear. Now they feel like old friends.
What are some of your favorite books?
So many books for so many reasons. MFA reads that have kicked my ass and made me redefine how I think of writing in general: Winter's Bone by Daniel Woodrell, The Things They Carried by Tim O'Brien, Columbine by Dave Cullen. I also love big, big stories like East of Eden by Steinbeck and Gone with the Wind by Margaret Mitchell. And I love Beowulf like a warrior-poet loves his mead. The Story of Edgar Sawtelle by Wroblewski is a beautiful book that I'm partial to. Julia Child's My Life In France also meant something to me. The Road by Cormac McCarthy was amazing but I can never read it again because it ruined me. I don't know. Ask me tomorrow. The list will probably be different.